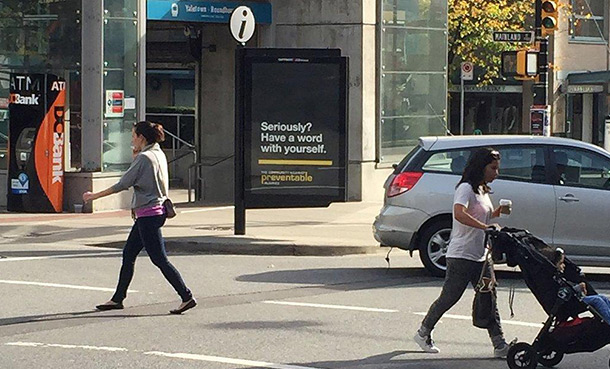 June 2016 marks the beginning of Preventable's 8th campaign year! After 7 years of highlighting injury issues and engaging with British Columbians on their attitudes towards preventable injuries, Preventable is seeing the results of our evidence-based campaign.  Overall, campaign monitoring shows a 4-5% positive shift in attitudes and behaviours towards preventable injuries across the entire BC population. Since launch, there has been a significant reduction in deaths by injuries among Preventable's target audience ages 25-55. Those who have seen the campaign are significantly more likely to perceive injuries as preventable when compared to those who have not. When asked about activities  taken to reduce impact of injuries, they report being more aware and paying more attention. 
British Columbians are telling us that they trust Preventable and perceive us as unique, relevant and helpful.
This summer, we are excited to highlight the following campaign elements:
The 30 second Seriously? TV spot with 5 injury scenarios 

The 15 second TV spot featuring a Dad reminding his kids to wear lifejackets

Continuing partnership with the BC Liquor Distribution Branch. Drinking and boating messaging will be displayed in all BCLDB stores throughout BC during the month of July. Messages will also appear on ice chests at marinas around the province.

Continuing partnership with the Vancouver Canadians baseball team. The texting and driving spot will be shown on their giant Diamond Vision screen during all home games. Preventable's message will also be displayed on the homerun fence at Nat Bailey Stadium.

Continuing social media messaging through Twitter and Instagram

 Seriously? message on transit shelters and map stands throughout BC
Injury-specific messaging in Alberta
If you see an opportunity to bring Preventable's messages to your community or workplace, our posters are available for download here.