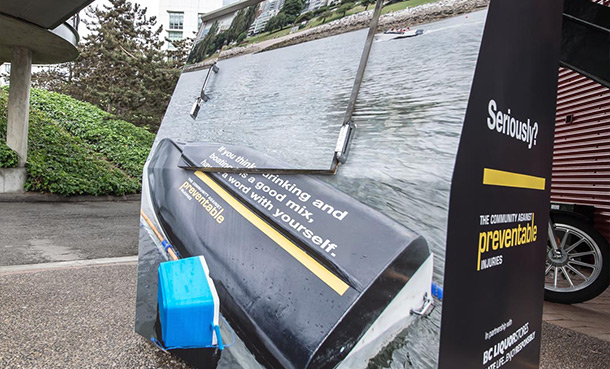 Drinking and boating: they don't mix. As in, at all.
As the weather (and the water) gets warmer, Preventable is partnering with the BC Liquor Distribution Branch to pass on this simple message to all BC boaters.
Throughout the summer, we'll be wrapping ice chests at marinas around the province with an image of an overturned boat. The installations and accompanying point-of-sale messaging will ask BC boaters to re-think their attitudes toward staying safe on the water—and to re-consider whether drinking and boating is all that smart of an idea.
It's an important message. Every year BC experiences an average of 48 deaths and 160 hospitalizations due to water related activities per year, the majority of which are related to boating. In fact, more than 40% of boating related fatalities are alcohol related. That's not surprising, considering that research shows that those on the water can become impaired twice as fast as someone on land, due to the motion of the waves, the intensity of the sun, and the effect of wind and glare.
On May 16, our spokeperson Dr. Ian Pike joined John Yap, Parliamentary Secretary for Liquor Reform Policy, Blain Lawson, CEO, BC Liquor Distribution Branch and Sgt. Jason High, officer in charge of the Vancouver Police Department Marine Unit, to announce the official launch of the campaign. Look for our messaging at some of the province's most popular marinas beginning the May long weekend and running through to Labour Day. BC Liquor Stores will also feature the same message in their stores during prime boating season in the month of July. A great way to get another season on the water off to a safe start.